THE GARDEN OF HOPE


The expansive Christiana Hospital campus is between my home and a major shopping area I frequent on my bike rides. Today I discovered the "Garden of Hope" that has been newly added outside a new Cancer Treatment Center. There is a gazebo next to a pond with fountains and a Canada goose conclave.

I stopped for my lunch picnic in the gazebo.


It's very peaceful and quiet. The fountains in the pond drown out all traffic noise and random thoughts cluttering your brain. I noticed a memorial in the distance.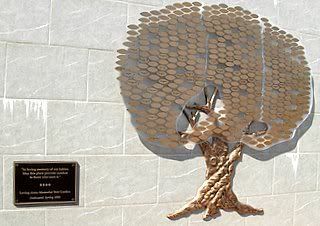 I went to investigate and found a memorial plaque that made me catch my breath as tears stung my eyes.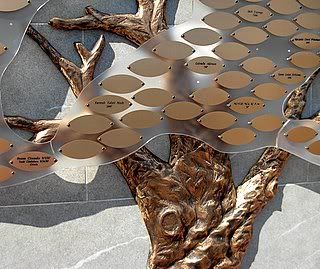 I sat there for a long time taking it all in....the intense poignancy of it, the scores of women who lost their babies, the women yet to come who would add a name to a bronze leaf. The surroundings of the memorial tree plaque had a distinct feminine feel to it. The keens and ululating of centuries of women who lost their babies hung in the air from the collective consciousness. The leaves of the bronze tree appeared to be rustling in the breeze and dancing in the sunlight. I had to stand very close to see that they really were not moving, they were reflecting the sun.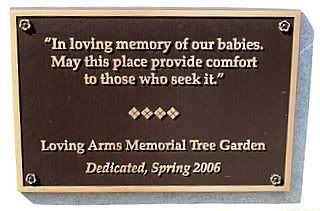 Surprisingly it was not an oppressively sad place for only a few feet away was the Garden of Hope and the Walk of Hope pathway. It's what women do....pick up and go on, often with the camaraderie of other women.
But sometimes, we must go it alone and when no one is looking, and after the acceptable time limit that others will give us, sometimes we need to go alone to a private place and place a wreath for the anguish in our hearts.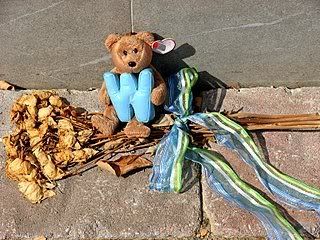 And then we come back from that private journey with the instinctive urge to be with other women who know where we have been and may go again. There is such joy and beauty in that.

I want to honor all women who has loved and lost, and women everywhere yet to take that path. I worked a photo through Photoshop of fountain sculpture I found in a park. Women of all sighs and sizes who draw strength, humor, and knowledge from other women on the same journey.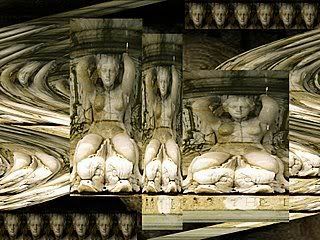 Yes, I'm sure of it. Those bronze leaves that seemed to move weren't just reflecting the sun. No, the babies of our heart are definitely dancing.